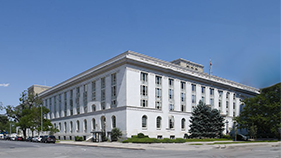 Welcome to the home page of the United States Bankruptcy Court for the District of Colorado. We have recently re-designed our website in an effort to make it more user friendly. We have added a "Live Chat" feature, which can be accessed in the bottom right hand corner of the home web page. If you have any suggestions for improvement, please send us a message using our contact form.
News & Announcements
GPO 2016-1 - In the Matter of Interim Adoption of Pending Amendments to Fed. R. Bankr. P. 7008, 7012, 7016, 9027, and 9033 (the Stern Amendments).    More...
At its March 2016 session, the Judicial Conference of the United States Courts established a new More »